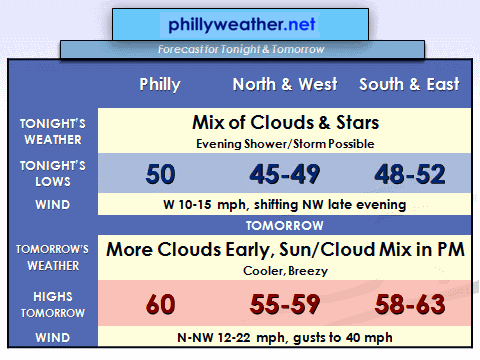 Our brief surge of milder weather will end overnight as a cool front moves through overnight, shifting our winds from the west-southwest to the northwest as the night progresses. We have the potential for a couple of bands of showers, or even a few rumbles of thunder, this evening as the front slides down from the north over the next several hours. The front itself should pass through the city during the evening hours, ending any chance of showers and storms as it pushes through. Winds will veer from the west this evening to the northwest, generally remaining up between 10 and 15 miles per hour overnight with gusts over 20.
Low temperatures tonight won't drop all that much -- probably bottoming out around 50 in the city by daybreak tomorrow morning as we deal with a mix of clouds and stars overnight.
Thursday will be a bit more March-like as we get a breezy day and a mix of sun and clouds. Skies probably start more cloudy in the morning, with sun taking over gradually through the course of the day. With north and northwest winds blowing to over 20 miles per hour sustained, gusting to as high as 40 in the afternoon, cooler winds of change will blow right on back into the region. With enough sunshine (fingers crossed), the city may top out around 60 tomorrow afternoon but many of us will only see upper 50's. A few low 60's are possible across Central and Southern Delaware, as well as South Jersey.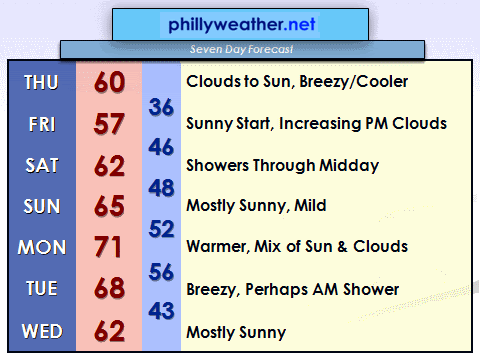 Thursday night could again be frosty outside of the city -- it's likely our last "best" shot for a frost for the next several nights as we have a shot of rain moving through overnight Friday into Saturday and the beginning of next week starts out a bit milder. Modeling is suggesting at least 70 for the first Monday of April...it could be much warmer than that though so we'll continue to tweak the forecast for the beginning of the month as needed.