Recent severe weather outbreaks have brought a lot of press to an agency within the National Weather Service known as SPC – the Storm Prediction Center. Located in Norman, Okla., it is the home of severe weather forecasting for the United States. But just what does SPC do?
SPC issues many products, but the most common and well-known are Convective Outlooks, Mesoscale Discussions, and Weather Watches. These products, just like anything else within the National Weather Service, are taxpayer-funded, and are therefore made publicly available via spc.noaa.gov.
However, before attempting to glean information from the forecasters at SPC, it is important to know how their system of products works.
Convective Outlooks outline areas of the United States that are expected to see severe weather on a particular day by placing that region in either a general risk, a Slight Risk, a Moderate Risk, or in cases of particularly severe weather, a High Risk. (The most recent High Risk to be issued, and only so far in 2013, was last week on June 12th in the Great Lakes region, as seen below.)
Convective Outlooks are issued for Days 1 and 2 at 06z (2 a.m. EDT). The outlook for Day 1 is then updated at 1300z (9 a.m. EDT), 1630z (12:30 p.m. EDT), 2000z (4 p.m. EDT), and finally at 01z (9 p.m. EDT). The Day 2 outlook is updated only once, at 1730z (2:30 p.m. EDT). A Day 3 Convective Outlook is also issued once daily, at around 0730z (3:30 a.m. EDT). Yet another outlook, for Days 4-8, is also issued around 0730z, but this outlook differs from Days 1-3 by only outlining where high-confidence high-impact severe weather is expected in that long-range time frame.
A Slight Risk is most common in our area, although a Moderate Risk was issue for much of the Mid-Atlantic last week ahead of an expected high-impact severe weather event for the I-95 corridor that in the end only somewhat verified.
The different categories of risk – Slight, Moderate, and High – deal with both coverage and severity of severe weather reports. A day with a large number of marginally-severe weather reports expected will justify the issuance of a Slight Risk in the same way that a day with a very few high end-severe reports expected will. Coverage is relayed through percentage chances of a given event happening within 25 miles of a point, like 15%, 30%, 45%, or in some cases even 60%, whereas severity is denoted by "hatching," in which the SPC forecaster issuing the outlook adds blacks cross-hatching to region that is expected to see particularly severe weather, like winds about 70 m.p.h., hail greater than two inches in diameter, or tornadoes EF-2 or stronger.
A combination of coverage and severity is likely to warrant a Moderate or a High Risk. SPC does not issue whatever risk level they feel like, rather, the Risk level must match the percentage chances of any type of severe weather happening, according to the table below.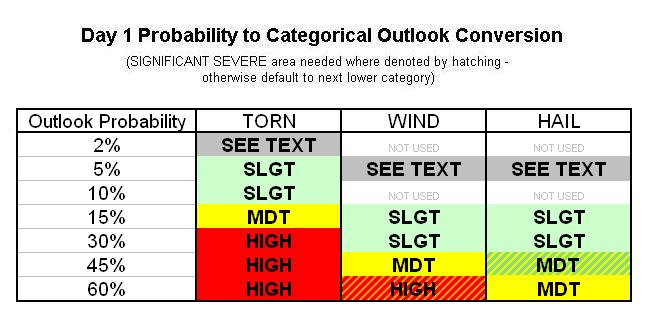 However, there is still some decision-making that remains in the forecaster's hands. For instance, one forecaster told me that he would sometimes consider issuing a higher risk (like a Moderate rather than a Slight) for a populated area like the East Coast for the same set-up that would only deserve a Slight Risk in a more rural part of the country, simply because of the magnitude of population that could be affected. (Despite this, it should be noted that SPC's official policy is to issue products regardless of population density, because every tax-paying American citizen deserves the same level of attention and warning.)
As a day progresses and the Convective Outlooks begin to fall into place without requiring hardly any chanes, SPC also issues Mesoscale Discussions, which act like a "heads-up" to the local Weather Forecast Offices and weather broadcasters in the media that a Weather Watch may be needed soon. Commonly referred to as MDs, these products are mostly focused on explaining the forecaster's thoughts on the current conditions, and on presenting their reasoning for why or why not a Watch may be necessary.
MDs do not just pertain to severe weather, however. SPC also issues MDs for areas where heavy rain is expected to trigger flooding, and in winter, areas where heavy snowfall or other dangerous winter weather is expected. However, SPC is only responsible for Severe Thunderstorm and Tornado Watches. Winter Storms Watches and Flood Watches are issued by the local Weather Forecast Offices.
If a forecaster deems a Weather Watch to be necessary, he or she will pick a parallelogram area, find what counties are touched by this parallelogram, and then issue the watch for those counties. Watches also contain probabilities for coverage and severity of reports of tornadoes, wind, and hail, ranging from Very Low to High. These probabilities are not the same as those used in Convective Outlooks, however.
SPC then collects reports of severe weather relayed to the main office by the local Weather Forecast Offices and plots those storm reports to see how well their outlooks, MDs, and watched verified. And then, they do it all over again the next day.